Sometimes you want to give yourself a Room, or just want to be lost in your dreams. Our rooms are perfect match for your leisurely moments. Providing the utmost privacy and catering with the finest of the room services, we take care you envelop yourself in your own comfort zone. Far away from the routine hustle-bustle here are all the comforts you need for celebrating the laid- back times you always wanted to spend.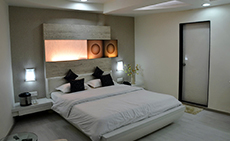 > Club house/ Games room– for the playful moments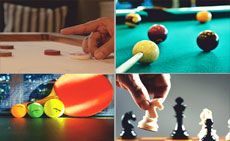 Sometimes you just don't want to run, jump or move here and there enthusiastically, but still want to enjoy playful moments. Here is our games room. Come with your mates, or come alone and make new friends here. Take a shot on the pool table, strike on Carom board, play table tennis, save the king while playing chess, or hit the bull's eye on a dart board. Find everything under one roof.
> Discotheque – Hey DJ, Hit it..!
Groove it out on the dance floor. The ultramodern sound systems playing electrifying music, the rainbow of laser lights cutting the darkness and the DJ ready to play all the retro and contemporary dance tracks you love to thump on. An atmosphere we have created just to make you dance, dance and dance. Keep tapping your feet till you experience a different kind of "high" while you sweat it out.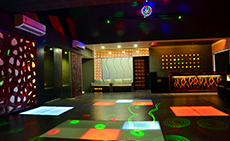 > Restaurant – Taste from the Globe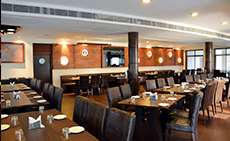 Universally favourite cuisines and delicacies served to your table, prepared by trained and experienced master chefs. Chinese, Continental, Thai, Mexican, Gujarati, and all the Indian cuisines…its about practising the culinary art to the perfection so we could create the taste worth savouring. The ambience adds the glory to the finest of the flavours, and the soothing music calms your soul. The wholesome dining experience will make you come here again and again.
Gujarat's first Adventure Park with rides easy to enjoy, filled with thrilling experiences. Carefully selected for kids and complying all the safety measures, all rides are assisted by field experts.
Adventure Rides at Park
Zipline, Climbing Wall, Rappelling, Spider Net
High Rope Challenge Course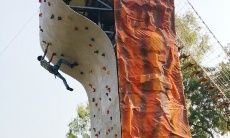 Board Walking, Stirrups, Rail Road Walk, Tunnel, Skate Board, Cross Log Walking, Has Walking, Hanging Log, Beam Walk, Vertical Log, Cross Log, Painter's Plank's
Low Rope Challenge Course
Post Man's Walk, Burma Bucket's • Burma Bridge •Zigzag Log, •Tyre Traverse •Board Walk • Multi Line •Balance Walk • Stirrups •Cross Walking
Yes, it's fun, adventure and safe too..
> Garden/ Children's play area – Giggles of joy.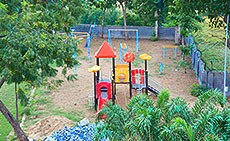 We believe that children are god's favourite human beings. How can they be forgotten at Anmol. A dedicated children's corner, that includes slides, see-saw, swings and many more playing properties. A huge lush green garden surrounded by the bunch of dense trees will make them experience fun and frolic in the lap of mother nature. See them giggling like never before. As they are enjoying their own fun world, a child play caring assistant always accompanies them so their smiles never gets fade away.
> Swimming pool – Stress relieving waters.
If water is life then our swimming pool fills you with the lifelike energy. Play with the water, splash as hard as you can, dive in and drain out all your stress and worries. Plunge in the deep or float into the shallow waters, experience the oneness with the cool water.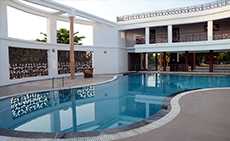 > Marriage – Celebrating the new beginning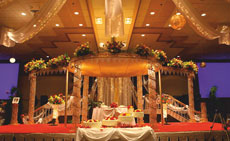 Finding a beautiful celebration venue is the first thing you need to do after choosing a perfect life partner. Come to us for an ANMOL CELEBRATION. A venue having a vast lush green land, number of theme celebration options, best of the guest hospitality along with the modern staying facilities, and finest of the catering services, making you taste the delicacies from world over. Come and experience an unexpected level of perfection, that will make your celebrations a memory of lifetime.
> Conference Hall and Business Room – Meet of Success
Board meeting for carrying out an important corporate decision, a meeting with business associates or a performance appraisal party to employees… need for all kinds of professional get together are catered perfectly at ANMOL. A centralised a.c conference room and a boardroom, a laptop, an all media projector, presentation screen, a sound system, and video recording facility.. .we are all set, so you can do your business better.
Conference Room 1 – Capacity of accommodating 40 people
Conference Room 2 – Capacity of accommodating 150 people