> Anmol – A unique expression of Leisure
Located only 10 kms. away from Sardar Patel Ring Road-Ahmedabad, nestling amidst the small nature nurtured and well infrastructure villages, ANMOL RUTURAJ CLUB is one of the finest recreational facilities in the vicinity of 100 kms.
Established in the year 2000, ANMOL RUTURAJ CLUB started with a vision to create and provide the ultimate comfort zone. With all the modern day leisurely facilities amidst the natural surroundings, it has a comparatively lower membership price tag.
Over the years with the constant up gradation of amenities, facilities and hospitality services, Anmol Ruturaj Club has attracted families, organizations and who's who from across the state. The club has performed as a melting pot for many well-known and prominent personalities and the memberships are still on a rise.
Whether it is about a warm welcome, sumptuous food, comfortable stay, hospitality at family/event celebrations, specific facilities for corporate meetings or take special day care for children…your wholesome well-being is our sweet responsibility.
A Playful Enrolment…
A Strong Camaraderie…
Truly an 'Anmol' Experience…
It has been more than a decade filled with an overwhelming response, as we have successfully served the club members, guests and taste enthusiasts in the best possible manner.
Since its inception in 2000, ANMOL RUTURAJ CLUB has been a part of the curious talks for various reasons. Be it the finest of the hospitality services, or the membership fees i.e. far less from the exorbitantly charging various family clubs of Gujarat.
As the time passed by, our vision of providing and maintaining the ultra-modern facilities reflected in our services, at par with the best of the clubs, we started gaining popularity and became one of the finest and most celebrated family clubs in the vicinity of 100 kms. of Ahmadabad.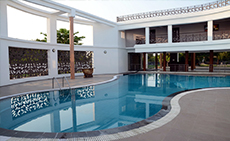 Over the last Fifteen years ANMOL RUTURAJ CLUB has been the centre of attraction, by being the venue for many important local and state level events organized, be it social or entertaining. Bollywood personalities have been a regular attraction at the club.
Amongst all these, we are grateful to our loyal members, who have harnessed our joy from every perspective. Be it the hospitality, food, or any other area of services, they have not only played the role of a catalyst by embracing it, but their suggestions have always helped in improving the same.
On the verge of completing 15 years of creating path making clubbing experience for its members and visitors, ANMOL RUTURAJ CLUB comes in a new avatar, with everything better on the way ahead. New rooms, improved services, state of the art facilities, Adventure Park and many more..
Make ANMOL a part of life.